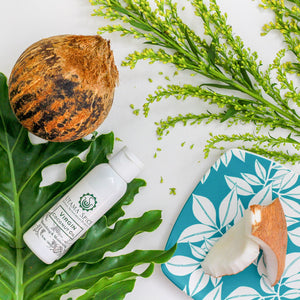 Why we love and use cold-pressed coconut oil in almost everything!
The benefits of Coconut Oil in Natural Skin Care and Hair Treatments
The natural mix of oils and fatty acids in coconut oil is similar to that found in  our skin and hair, and its complex make-up gives it many natural benefits that synthetic oils or other non-100% pure beauty products cannot offer. We explain some of the best reasons why coconut oil is an important ingredient in 
natural skin care
 and 
hair treatment
 products and why it is a favorite here at Utama Spice.
Natural hair treatment
The unique fat composition of coconut oil helps protect and nourish your hair and scalp, which means thick, shiny hair. It also helps to 
condition
 hair by locking in 
moisture
 and reducing protein loss which can make hair look unhealthy. If your hair is already 
dry or damaged
, or you suffer from 
dandruff
 or other dry skin issues, coconut oil is an excellent 
natural hair treatment
. Unlike synthetic oils found in other products, coconut oil is almost certain to be non-allergenic, so it won't irritate your scalp while it helps to restore the delicate protein balance of your hair and moisturize your skin and roots. Coconut oil can also help prevent lice, making it an excellent, 
safe
 product for your children's hair. These many great benefits of coconut oil are why it has been used for generations in homemade hair remedies by women in Indonesia and other tropical regions of the world. We use high quality cold-pressed coconut oil in our
Shampoo
and Hair Oils.
Natural skin care
Coconut oil
is an effective 
moisturizer
 on all types of skin, of all ages. Coconut oil works to restore and maintain the fatty acid balance of your skin while actively re-hydrating it, locking in moisture and keeping your skin looking younger and healthy, with less sagging and wrinkles. Unlike synthetic oils, coconut oil also does not react with our skin, making it a popular choice with mothers and babies or those with sensitive skin. Coconut oil also provides 
natural anti-oxidant
 benefits which over time may help prevent various signs of premature aging. It also has mild 
antimicrobial 
properties making it a great option when trying to deal with skin problems such as dermatitis and eczema that can be prone to infection and irritation, or as a topical healing 
balm
 for use on cuts and bruises where its complex make-up of nutrients can help to speed up the healing process. It is also a 
natural sunscreen
, and although we strongly advise you to take proper precautions when going out in strong UV light for extended periods, on a day-to-day basis using 
coconut oil
 in your facial cleanser, body lotion or
Lip Balm
gives exposed skin an extra layer protection against sun damage. One of favourite products is our
Liquid Soap
, made with cold-pressed coconut oil and essential oils, and doesn't dry your skin even with frequent handwashing. Great for those who like smelling fresh or with skin conditions like eczema or dermatitis.
Other coconut oil benefits
But perhaps the most overlooked and undeniable benefit of 
coconut oil
 is that it simply 
smells great
 and 
feels luxurious
 and silky-smooth on your skin. The experience of being smothered in a 
Body Butter
 blended with aloe and seaweed or massaged with an aromatic 
Body Oil
 is so soothing and relaxing, and if we can 
reduce stress
 in our lives and improve our mental health, we end up looking and feeling younger and healthier, all completely naturally!
---