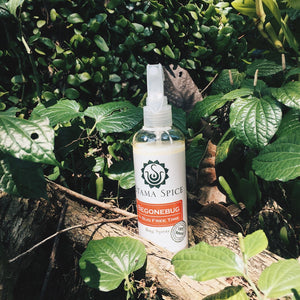 Natural insect & mosquito repellents - Bugs Begone!
The monsoon season is round the corner here in Singapore and few things are more annoying than the sound of a mosquito buzzing by your ear when you're trying to sleep. Except, of course, when it finally tries to take a bite!
No Bugs, No Chemicals
Prevention is certainly better than cure when you're scratching an irritating mosquito bite. Pesky bugs such as mosquitoes can hurt both adults and children, be annoying or even carry diseases. What's a better way to avoid these problems than to use all natural insect repellants?
In choosing the right insect repellent for you and your family, it is important to avoid products that contain chemical toxins that can negatively affect the body, such as DEET where some reported side effects include:
Memory loss

Headaches

Skin irritation

Muscle weakness

Nausea

Seizures

Joint pain
Strong chemicals like DEET should also not be applied on damaged or sunburnt skin, or pregnant women and children who are more susceptible to neuro-toxicity. A repellent made with natural ingredients is therefore a good alternative to synthetic chemical counterparts.
Bali Spa Products For Beating The Bugs
Utama Spice not only creates affordable, natural skin care, but our most popular product is actually one that can help keep bugs away too. Utama Spice's own natural Begone Bug Spray gives you that protection with the additional benefit of being synthetic chemical-free. We use a soothing seaweed gel (agar) that keeps the skin hydrated and improves collagen production while our own blend of essential oils keeps you smelling great. Safe for children and those with sensitive skin, no wonder Mummies love our Begone Bug!
If you prefer to make your own insect repellent, you could also try using the following essential oils:
Lemon Eucalyptus Oil

Greek Catnip Oil

Cinnamon Oil

Thyme Oil
So now you know how you can get out of the house and enjoy the outdoors, worry-free!
---